Welcome to Our Parish
Office hours during the Coronavirus pandemic – 9 a.m. to 3 p.m. Mon-Thur & Fri. 11 a.m. – 2 p.m. – remote access only.  Email admin @ stclementmatawan.org.  The office remains closed to the public including parishioners.  Mail is received daily and opened twice per week for offerings – Monday and Friday mornings.

AT THIS TIME, WEARING A MASK INSIDE CHURCH IS MANDATORY FOR ALL MASSES AND PRIVATE PRAYER TIMES
ST. CLEMENT'S IS CELEBRATING FIRST COMMUNION FOR OUR YOUTH THIS SATURDAY AND THE TWO SERVICES WILL BE LIVE-STREAMED.  THE LINKS TO CLICK ON ARE RIGHT HERE:
FOR 9:30 A.M.:  9:30 a.m. Sat. Aug. 15 First Communion
AND 12 NOON:  12 noon Sat. Aug 15 First Communion
WEEKDAY MASS GUIDELINES AT ST. CLEMENTS

Public weekday Mass at St. Clement's resumed at 8 a.m. on June 8.  Masses are only celebrated with the public on Monday, Wednesday, and Friday.  Wearing a mask is mandatory when inside the church.  Only one door is used for entry, the one closest to the gymnasium parking lot.  All people that are feeling ill or who have had contact with an individual who has tested positive for Covid-19 should not attend.  Individuals in high-risk groups are not banned but should consider strongly about whether attending is in their best interest.  Seating is marked to allow for social distancing inside the church.  Reception of the host should only be done by hand.  The church is disinfected before and after each mass. 
Although morning mass will not be available on Tuesday, Thursday and Saturday mornings, parishioners should note that the daily readings for those days are on this page of the website and a link to the reading text is provided.
IMPORTANT ITEMS REGARDING WEEKEND MASS

There are some guidelines that must be followed by all who attend.  A most important concern is the number of people who can attend each Mass.  Our church's limit is about 140 people, and this limit must be enforced.  We will try to accommodate parishioners, but patience and understanding are needed.  In order to maintain sanitary measures, the church is cleaned after each Mass.  Please arrive before Mass begins.  A significant amount of people trying to enter the church after Mass has begun makes it difficult for coordinating seating with proper distancing measures.  The doors will be opened about 20 minutes prior to the start of mass.  This gives ushers time to prepare for the arrival of parishioners.  If arriving before that time, please wait in the car.

Those who are ill or in high-risk groups should not attend Mass at this time.  Those fearing infection should not attend.  The dispensation from attending weekly mass will continue in effect at least until September 7.  Video of mass will continue for those not able to attend. When entering and exiting the Church, keep a distance of six-feet between each other. Please enter by the glass doors on the side of the church that faces Ryers Lane  (closest to the gym).  Please exit the church through either side doors.  No one can enter the church without a mask, and it must be worn throughout mass.  Ushers will direct people to pews that are available for seating; they are marked with blue tape.  Please maintain social distancing when inside the church. Families should sit together. 9:30 a.m. Sunday Mass is suspended at this time; this will provide time for cleaning. Masses will be held at 5 p.m. on Saturday and 8 a.m. and 11 a.m. on Sunday.  Directions regarding the reception of Communion will be provided at each Mass.  Only the handicap-accessible bathroom will be available for use. No gathering inside the church before or after Mass is permitted.  The priest can not greet parishioners after Mass. The Sign of Peace is omitted. Hymnals, missals and all paper materials have been removed from the church.  Should you need a missal to follow along with the mass, please bring your own copy.  Collection baskets will be located near the doors of the church as no collection by ushers occur.  Please contribute as your means allow.  You may continue mailing or using Parish Giving.

Please click this link for the Information from the Diocese of Trenton and Father Vala's initial response to the June 8 and June 13 re-opening plan: Father Vala and Bishop O'Connell on re-opening 
ST. CLEMENT'S WILL HAVE A VIDEO OF THIS WEEKEND'S MASS (Aug. 16) WHEN AVAILABLE HERE FOR YOU TO VIEW:
VIDEOS OF MASSES are located on another page – follow this link:  Video Masses at St. Clement
ST. CLEMENT'S WILL BE OPEN DURING SPECIFIC TIMES FOR PRIVATE PRAYER
Father Vala is pleased to announce that, following guidelines of the Diocese about opening for Private Prayer, St. Clement's will be open on Monday, Wednesday and Friday from 10:00 a.m. to 2:00 p.m. for Private Prayer.  There are three restrictions:  (1) masks must be worn.  (2) no more than 10 people may be in the church at any one time.  (3) Except for immediate family members residing in the same house, attendees must sit apart from each other by a minimum of six feet.
MATAWAN FIRE DEPARTMENT HELPS ST. CLEMENT RE-ATTACH FLAGS AND FLY THEM AGAIN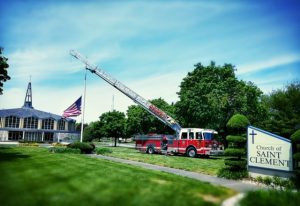 CATHOLIC CHARITIES NEWS
The economic impact of the pandemic has increased the number of  homeless families.  Catholic Charities provides transitional housing, job skills and budgeting training to people in Monmouth County, who have lost their homes.  For assistance call 732-922-0400.

 FATHER VALA'S MOTHER'S DAY MESSAGE – Click here to view:  Father Vala's Mother's Day Message

St. Clement Parish has partnered with St. Benedict's Parish and the RAINE Foundation

In an effort to help local families that are in need because of the effects of the Coronavirus pandemic, St. Clement Parish partnered with St. Benedict's Parish and the RAINE Foundation. Members from both parishes worked with volunteers from the RAINE foundation to gather needed fresh produce and other grocery items, which have been distributed to families in our area.  For example, in total, emergency food was purchased and delivered to 101 adults and 119 children on Friday, May 8th. If you wish to help for future food drives, donations can be mailed in or dropped off at the Rectory, to St. Clement Social Concerns.
ALTAR ROSARY'S MAY CROWNING OF MARY
Our St. Clement's Altar Rosary Society has produced this video of their May Crowning:  May Crowning of Mary
EVERY PENNY COUNTS
For those that are able, please remember your church during this most difficult time. It would be greatly appreciated if you could either mail in your weekly contribution (if not attending mass) or join our online giving program (information on this program is included in this website).  If at all possible, please mail in your offering.  Many thanks to those that are supporting this parish.

BISHOP O'CONNELL HAS ISSUED A DISPENSATION FROM SUNDAY MASS
Bishop David O'Connell of the Diocese of Trenton:  "I am granting a DISPENSATION from the OBLIGATION to attend weekend/Sunday mass to all the Catholic faithful until further notice.  I recommend that the faithful pray and take advantage of/participate in Holy Mass as broadcast on television."

For other messages from out Diocese of Trenton, please link to the Diocese of Trenton's announcements page:  Diocese Announcements
AN EXAMINATION OF CONSCIENCE BEFORE MAKING A CONFESSION:  The Diocese of Trenton has sent this link to all parishes to help parishioners before making a Confession  Examination of Conscience
FLOCKNOTE:  You are invited to join Flocknote and get information from our parish by email or text message.  In winter months, changes to the mass schedule will appear on the website and via Flocknote message – to join, click on this link FLOCKNOTE
REGISTRATION INTO OUR PARISH:

 

To register yourself in the St. Clement community, the Parish Registration form is here: 

REGISTRATION

 
LITURGY OF THE WORD:  MASS READINGS FOR THE UPCOMING WEEK
Thursday, August 13 – Memorials of St Pontian and of St Hippolytus:  Ezekiel 12:1-12; Gospel of Matthew 18:21 – 19:1
Friday, August 14 – Memorial of St. Maximilian Kolbe:  Ezekiel 16:1-15; 60,63;  Gospel of Matthew 19:3-12
Saturday, August 15 – The Assumption of the Blessed Virgin Mary:  Revelations 11:19a; 12:1-6a, 10ab; 1st Corinthians 15:20-27; Gospel of Luke 1:39-56
Sunday, August 16 – 20th Sunday in Ordinary Time:  Isaiah 56:1, 6-7; Romans 11:13-15, 29-32; Gospel of Matthew 15:21-28
Monday, August 17 – Ordinary Time:  Ezekiel 24:15-24; Gospel of Matthew 19:16-22
Tuesday, August 18 – Ordinary Time:  Ezekiel 28:1-10; Gospel of Matthew 19:23-30
Wednesday, August 19 – Memorial of St, John Eudes:  Ezekiel 34:1-11; Gospel of Matthew 20:1-16
Thursday, August 20 – Memorial of St. Bernard:  Ezekiel 36:23-28; Gospel of Matthew 22:1-14
Friday, August 21:  Memorial of St. Pius X:  Ezekiel 37:1-14; Gospel of Matthew 22:34-40
Saturday, August 22 – The Queenship of the Blessed Virgin Mary:  Ezekiel 43:1-7ab; Gospel of Matthew 23:1-12
Sunday, August 23 – 21st Sunday in Ordinary Time:  Isaiah 22:19-23; Romans 11:33-36; Gospel of Matthew 16:13-20
For the text of readings, please click on this link: USCCB daily readings