Welcome to Our Parish
Office hours during the Coronavirus pandemic – 11 a.m. to 2 p.m. Mon-Fri – remote access only.  Email admin @ stclementmatawan.org.  The office remains closed to the public including parishioners.  Mail is received daily and opened twice per week for offerings – Monday afternoons and Friday mornings.

ST. CLEMENT WILL LIVE-STREAM ASCENSION MASS ON SUNDAY, MAY 24 AT 9:30 A.M.

You will be able to view the Live-Stream Mass for Ascension at St. Clement's here:  St.Clement live-stream Mass for Ascension May 24
For the text of Father Gregg's homily for the May 17 mass click here:  Fr. Gregg homily – May 17
MATAWAN FIRE DEPARTMENT HELPS ST. CLEMENT RE-ATTACH FLAGS AND FLY THEM AGAIN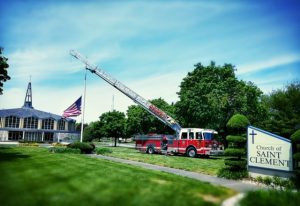 BISHOP O'CONNELL ASKS ALL PARISHIONERS IN THE DIOCESE FOR HELP WITH CATHOLIC SCHOOL ADVOCACY
Please click on this link for the full statement from our Bishop:   Bishop requests advocacy help
ST. CLEMENT'S WILL BE OPEN DURING SPECIFIC TIMES FOR PRIVATE PRAYER
Father Vala is pleased to announce that, following guidelines of the Diocese about opening for Private Prayer, St. Clement's will be open on Monday, Wednesday and Friday from 10:00 a.m. to 2:00 p.m. for Private Prayer.  There are three restrictions:  (1) masks must be worn.  (2) no more than 10 people may be in the church at any one time.  (3) Except for immediate family members residing in the same house, attendees must sit apart from each other by a minimum of six feet.
FATHER VALA'S MOTHER'S DAY MESSAGE – Click here to view:  Father Vala's Mother's Day Message

St. Clement Parish partnered with St. Benedict's Parish and the RAINE Foundation this past week. 
In an effort to help local families that are in need because of the effects of the Coronavirus pandemic, St. Clement Parish partnered with St. Benedict's Parish and the RAINE Foundation this past week.  Members from both parishes worked with volunteers from the RAINE foundation to gather needed fresh produce and other grocery items, which were distributed to families in our area.  In total, emergency food was purchased and delivered to 101 adults and 119 children on Friday, May 8th. If you wish to help for future food drives, donations can be mailed in or dropped off at the Rectory, to St. Clement Social Concerns.
ALTAR ROSARY'S MAY CROWNING OF MARY
Our St. Clement's Altar Rosary Society has produced this video of their May Crowning:  May Crowning of Mary
VIDEOS OF OTHER MASSES – are located on another page – follow this link:  Video Masses at St. Clement
EVERY PENNY COUNTS
For those that are able, please remember your church during this most difficult time. It would be greatly appreciated if you could either mail in your weekly contribution or join our online giving program (information on this program is included in this website).  Our parish especially relies on our Easter collection.  If at all possible, please mail in your offering.  Many thanks to those that are supporting this parish.

ALL ACTIVITIES IN THE PARISH OF ST. CLEMENT ARE SUSPENDED
Our Pastor, Father Thomas Vala, has announced that all activities in the parish of St. Clement are suspended until further notice, except for private prayer.

Confessions will not be scheduled or advertised.   For those who desire the sacrament of Confession, the Holy Father has encouraged acts of perfect contrition when confessions/confessors are not accessible.
.
BISHOP O'CONNELL HAS ISSUED A DISPENSATION FROM SUNDAY MASS
Bishop David O'Connell of the Diocese of Trenton:  "I am granting a DISPENSATION from the OBLIGATION to attend weekend/Sunday mass to all the Catholic faithful until further notice.  I recommend that the faithful pray and take advantage of/participate in Holy Mass as broadcast on television."

For other messages from out Diocese of Trenton, please link to the Diocese of Trenton's announcements page:  Diocese Announcements
AN EXAMINATION OF CONSCIENCE BEFORE MAKING A CONFESSION:  The Diocese of Trenton has sent this link to all parishes to help parishioners before making a Confession  Examination of Conscience
FLOCKNOTE:  You are invited to join Flocknote and get information from our parish by email or text message.  In winter months, changes to the mass schedule will appear on the website and via Flocknote message – to join, click on this link FLOCKNOTE
REGISTRATION INTO OUR PARISH:

 

To register yourself in the St. Clement community, the Parish Registration form is here: 

REGISTRATION

 
LITURGY OF THE WORD:  MASS READINGS FOR THE UPCOMING WEEK
Wednesday, May 20 – Memorial of St. Bernadine of Siena:  Acts 17:15, 22-18:1; Gospel of John 16:12-15
Thursday, May 21 – Memorial of St. Christopher Magallanes:  Acts 18:1-8; Gospel of John 16:16-20
Friday, May 22 – Memorial of St. Rita of Cascia:  Acts 18:9-18; Gospel of John 16:20-23
Saturday,May 23 – Saturday during the Easter Season:  Acts 18:23-28; Gospel of John 16:23b-28
Sunday, May 24 – The Ascension of the Lord:  Acts 1:1-11; Ephesians 1:17-23; Gospel of Matthew 28:16-20
Monday, May 25 – Memorial of St. Bede the Venerable, and of St. Gregory VII, and of St. Mary Magdalene de Pazzi:  Acts 19:1-8; Gospel of John 16:29-33
Tuesday, May 26 – Memorial of St. Philip Neri:  Acts 20:17-27; Gospel of John 17:1-11a
Wednesday, May 27 – Memorial of St. Augustine of Canterbury:  Acts 20:28-38; Gospel of John 17:11b-19
Thursday, May 28 – Thursday during the Easter season:  Acts 22:30; 23:6-11; Gospel of John 17:20-26
Friday, May 29 – Memorial of St. Paul VI, Pope:  Acts 25:13b-21; Gospel of John 21:15-19
Saturday, May 30 – Saturday during the Easter season:  Acts 28:16-20, 30-31; Gospel  of John 21:20-25
Sunday, May 31 – Pentecost Sunday:  Acts 2:1-11; 1st Corinthians 12:3b-7, 12-13; Gospel of John 20:19-23
For the text of readings, please click on this link: USCCB daily readings
Leave as a Friend